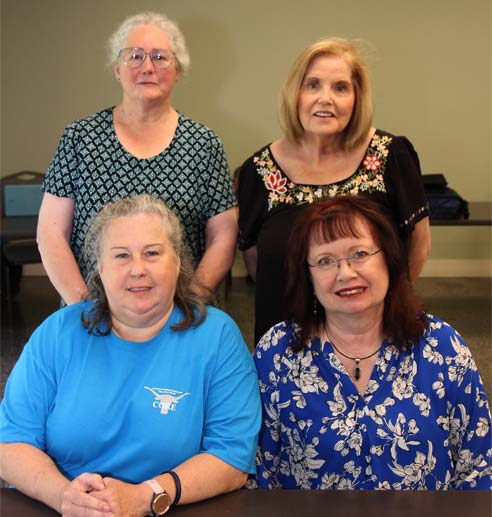 The Coalition of Retired Employees Officers
March 2022-2024

tap name to contact
President
Karen Van Leuvan
Karen retired as Administrative Services Manager for the Fort Worth Public Library in 2013 – but it didn't stick. After several library consultant assignments, she retired permanently in 2018. She is the current CORE President. She enjoys volunteering for United Way providing free income tax assistance, reading, and traveling.

First Vice President
Carol Brown
Carol retired from Neighborhood Services in January 2015 after 35 years of service. She worked as a Community Center Coordinator. She now spends her time as the Executive Director of a non-profit organization, Como Lions Heart, that supports the programs of the community center where she spent her entire career.

Immediate Past President
Marsha Anderson
Marsha served as a CFW spokesperson for almost 25 years. She has served as the Retired General Employees Retirement Fund Trustee for almost 10 years, CORE president for 8 years, CORE's Vice President for 2 years, and currently serves on CORE'S board as Past President.

Secretary
Marolee Lundsford
Marolee is a Certified Public Manager who worked in both the Development and Planning departments. She retired in 2008 as a planning manager in the Development Department. Prior to working in Fort Worth, she was a city/transportation planner for the City of Tyler, Texas. Before becoming CORE secretary, she served as the program chair. Marolee says that serving on CORE has given her the opportunity to be part of a group dedicated to providing important information to City retirees and, when necessary, fighting for their benefits. Marolee is a native of Washington state, but now considers herself a proud Texan. She also enjoys quilting, playing the ukulele and guitar and holds a General Class Ham Radio License.

Treasurer
Deborah Duke
Deborah retired from the Library in March 2020, where she had been the Collection Management Administrator for almost 20 years. As she used to explain, "I get to buy all the books!" She now spends her time reading (of course!), gardening, cooking, working the Tarrant County elections, cataloging her home library, taking care of too many cats, and contemplating travel.

Membership Committee Chair and Shirt Sales
Alison Letnes
Alison worked for the CFW Parks and Recreation/Parks and Community Services for 26 years, first as the Recreation Instructor at McLeland Tennis Center, then as Supervisor at Southwest Community Center. and finally the Coordinator for the Graffiti Abatement Program. She became active with CORE shortly after retiring in 2012. In 2013, she began serving on the Board as Vice President, then as Treasurer and again as Vice President. She has served on the Membership Committee since 2014. Besides CORE, other activities she is involved with are fostering dogs, genealogy, gardening, and working the Tarrant County elections.

Employee Retirement Board Place 7 Representative
Marsha Anderson

Medicare Representative
Yolanda Gonzales
Yolanda retired after 27 years of service with the City in September, 2018. Her last position was in the Water Department as a Senior Management Analyst. She also worked in HR, Finance, and TPW. Currently she spends time with family, volunteers on the FWCCU Board, CORE Board, and the City's HBAC Committee. Future plans include joining a Senior Bowling League, attending TCC Sr. Program classes, playing bingo monthly, and traveling.

Non-Medicare Representative: Vacant

Second Vice President
Alison Letnes

Program Chair
Carol Brown

Communications Chair
Joel Carranza
Joel Carranza retired in 2013 after 27 years (+five years on DROP) from the Graphics section of the Reprographics department. In 1980 he was hired in the Planning Department's Art Section. After five years the two art departments in City Hall, Print Shop, and Mailroom where combined to create the Reprographics Department, where he worked and became the Lead Graphic Artist. Active in the Edgecliff Village Garden Club, Park Board, and ECOPs, he enjoys working in his yard, camping and traveling in his RV, cruising, and movies. He plans to rejoin the TCC Seniors Classes (Senior Yoga, Stage Experience and Tai Chi) when COVID restrictions ease.